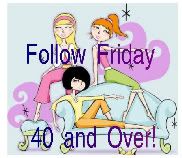 Are you a blogger over 40? You and me both, baby! Welcome to the club! Please join in the Fun and get to know your fellow bloggers!!
Java at Never Growing Old is the Hostess and the Rules to join in are very simple!
1. Grab the button
2. Add your link to the list
3. Visit as many other blogs as you can
4. Follow the ones you like (and comment on their blog to say that you are following
Thanks for joining my blog family! You can Follow via Google Friend Connect on the right-hand sidebar.