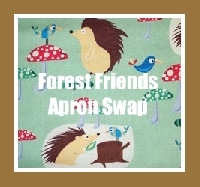 Kat
was randomly assigned to me and she sent me the MOST amazing package!! Look at this adorable owl apron - isn't the detail amazing?!? I have found myself wearing this over and over in the weeks since I've received it.
Then, she tucked in the gorgeous frame with the sweet "lovebirds" inside. You may remember that Kat sent me
THIS lovebird apron
in a different swap recently - this is a little inside joke/nod to one of my facebook profile picture of my hubby and I. =)
This is the apron I crafted for
Tammy
. I used my friend Lucy's
The Sassy Apron pattern
, and this adorable Woodland Friends fabric. I LOVE hedgehogs! And aren't the polka dots so cute with the toadstools (if I say so myself)?!?
Then this last apron I made for
Val's Year of the Enchantment Swap
for Sandy. The theme for the month is "Owls" but Sandy loves Halloween so it's a bit more spooky than I would have made normally. This apron is my own creation, inspired by several aprons I've seen online lately.
I really like this owl-ish print for the ruffle - I found it at
Fabric Depot
, on sale even.
Thanks for letting me share!!