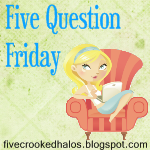 Here's a fun getting-to-know-more-people MEME. Leave a comment here and then stop by the other blogs and say Hi. Follow if you like or not, but definitely leave a quick comment please! I love reading them!!
1. Are you a neat sleeper or a messy sleeper? I sleep very neatly, staying in my little box. Of course, it helps that I'm constantly fighting for real estate with the great dane/mastiff, manly hubby and an occasional child visitor! I just hold still and hang on to the side of the king-size mattress so I don't fall off!
2. Fill in the blank. I wish I was more
healthy! I've been working on my weight and overall health for years. This is the year - thank you Mamavation and SparkPeople!
3. What is something that you wish you had been warned about? How much I'd miss my parents once they're gone and to not waste precious time.
4. What was the best thing you ever found at a garage sale/flea market? My hubby bought me a beautiful sewing cabinet for super cheap and I adore it!
5. If you could have any meal brought to you right now, what would it be? Since I'm starving, anything! I'd love a healthy breakfast waiting for me ... refreshing smoothie, asparagus omelet and fresh fruit salad.... yummm!
And, just a quick reminder about the
great
price I found on the Gruve body monitor ... thro
ugh Sunday, August 8, you can purchase
The Gruve
and a one-year online subscription for only $99! I liked it so much, I'm an affiliate! Leave a comment if you decide to try one - I ordered MINE Wednesday and it's already on it's way to me!!
AND, just to let my swappers know, Flirty Apron Swap Back to the Future partner emails will be sent after work tonight -- I finished the matches LATE last night. The 36 of us will have a BALL!!!