In my world, I've just kicked off registrations for my new flirty apron swap
If you like pretty aprons and can sew (or buy handmade), COME JOIN US! Signups end August 4 (my 25th wedding anniversary) and we are celebrating the 25th anniversary of Back to the Future by creating handmade apron package based on this iconic movie. Your apron can be movie-themed, 50's retro, 80's pop, or Futuristic! You will include at least three "tuck-ins" and must include one from each era: the 50s, the 80s, and the 21st century.
Very easy ... details HERE.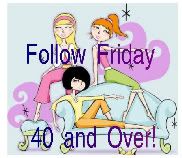 Are you a blogger over 40? You and me both, baby! Welcome to the club! Please join in the Fun and get to know your fellow bloggers!! This is my second week participating and I found some fun, new blogs last week.
Java at Never Growing Old is the Hostess of Follow Friday and the Rules to join in are very simple!
1. Grab the button
2. Add your link to the list
3. Visit as many other blogs as you can (leave them a comment whether you follow or not is my suggestion - it's nice to see the traffic)
4. Follow the ones you like (and comment on their blog to say that you are following
Thanks for joining my blog family! You can Follow via Google Friend Connect on the right-hand sidebar.