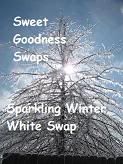 Sweet Goodness Swaps
are always fun to participate in. This is an entirely different group of swappers than my apron gals so it's always so interesting to see their creations and I've received the best packages.
I have only a partial post BECAUSE of camera issues. I'll have to post what I received later but here's a glimpse of what I sent, mostly the handmade goodies. The theme was Sparkling Winter White and partners answered questionnaires for each other. Now, the email from my partner
Jenny
came when I was particularly busy so I have to admit that I replied with my answers without reading her's first. Good thing, too, or I might have not been entirely truthful because our answers were almost IDENTICAL. Favorite memories ... sledding as children for both us, favorite part about winter ... wearing sweaters for both of us, we both love vintage pinups, etc ...
For the Love of Sweaters:
I really enjoy wearing sweaters, especially turtlenecks. (Now, my twenty-something daughters HATE my turtlenecks but that's another story.) I found a cute crochet clutch pattern a couple of years ago and knew that would fit the bill. It's called
"Favorite Sweater Clutch"
by Julie Armstrong Holetz and I made it one of Jenny's fav colors, pink. Part of the swap is to include a thrifted item, and I found a sweet Sparkling snowflake brooch at Goodwill that matches perfectly.
For the love of Pinups:
I had some gorgeous vintage pinup Christmas fabric in my stash that was PERFECT for this swap, so I tried out my new apron pattern, McCalls M5825 (view A).
In my stash was also the cutest polka-dot rick-rack that I had to add along the ruffle. This might be my
favorite
apron I've made since I started sewing and swapping aprons two and a half years ago. Can you even
see
the pocket??