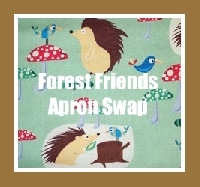 I swap with Swap-bot!
I know it's silly since I'm currently hosting a new Flirty Apron Swap, but I'm also hosting an
apron swap over at Swap-Bo
t. I really like this hedgehog/mushroom fabric and I was just forced to host! You must join the Swap-Bot Apron Lovers Group to be part of the swap (unless I can figure out how to open it up to all). The only mandatory element in the apron is something from the forest ... I was thinking hedgehogs, owls, mushrooms, birds, trees, fairies, gnomes ... I LOVE all the cute Japanese prints along this line.
Deadline to enter is August 14, must mail by September 15.